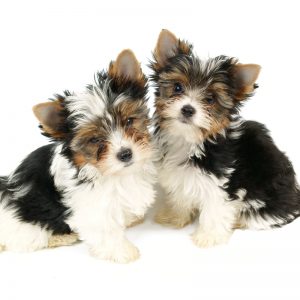 Description
The Biewer Yorkshire Terrier's body is compact. It also has long hair that hangs even and straight down the side of the body. Its coat is a fine texture and shiny like silk but does not have an undercoat. The Biewer Terrier's coat can come in a variety of colors including white, blue, black, and brown.
Disposition
Although Biewer Terriers are small in size, they enjoy adventure. This breed is highly energetic, brave, loyal, and clever.
The Biewer Terrier is a good watchdog but can become suspicious of strangers and aggressive to strange dogs and small animals if not trained properly.
When owners display leadership, the Biewer Terrier is very sweet and loving and can be trusted with children.
Problems only arise when owners, because of the dog's cute little size, allow them to take over the house.
Clubs, Registries & Associations
(Based on breed recognition. See store for details on a particular puppy.)
American Canine Association Inc.
American Canine Hybrid Club
American Canine Registry
American Kennel Club Foundation Stock Service Program
American Pet Registry, Inc.
Dog Registry of America, Inc.
International Designer Canine Registry
Additional Information
Group: Toy/Companion
Average Weight: 7 lbs.
Personality Traits: Energetic, clever, loyal
Country of Origin: Germany
Coat: Long