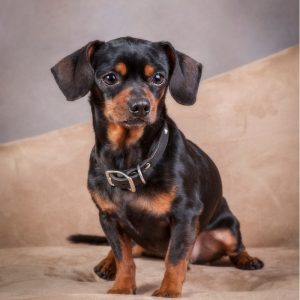 Description
The Chiweenie, a cross between a Chihuahua and Dachshund, is typically long like a Dachshund and fairly short-legged. Their head may either have a long, thin muzzle like a Dachshund or have a shorter, more domed head like a Chihuahua. The Chiweenie's ears can also take on traits of either parent; some have pointed ears like the Chihuahua or the floppy ears of a Dachshund. Their tail is also moderately long like a Dachshund. The Chiweenie's coat ranges from short and wiry to long and silky, and coat colors can include black, tan, brown, red, blond, or multicolored. Discover more about our Chiweenie puppies for sale below!


Disposition
Chiweenies are social, friendly, energetic, and loving. These traits make them a friendly and fun lap dog. Due to their size and temperament, the Chiweenie is best suited for families with older children, singles, or seniors. Although they are an energetic breed, the Chiweenie does not need a lot of space due to their small size and therefore can adapt to smaller living spaces such as apartments or condos with or without a yard. Chiweenies also tend to bark, making them good watchdogs.
Clubs, Registries & Associations
(Based on breed recognition. See store for details on a particular puppy.)
American Canine Hybrid Club

Designer Dogs Kennel Club

Dog Registry of America, Inc.

International Designer Canine Registry

Designer Breed Registry
Additional Information
Group: Toy
Average Weight: 8-12 lbs.
Personality Traits: Social, energetic, loving
Country of Origin: United States
Coat: Short or Long

Check out the Chiweenie puppies for sale we currently have in our stores. If there are none here, please contact us and we'll be in touch.