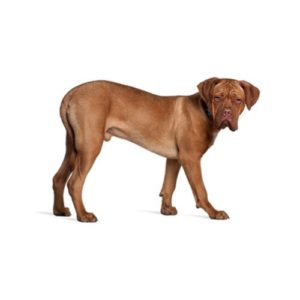 Description
The Dogue de Bordeaux also called the French Mastiff and sometimes called the Bordeaux Bulldog, is a relatively short, stocky mastiff. The Dogue de Bordeaux is a powerful, muscular and brave dog and because of this, the breed is not suitable for inexperienced dog owners. The wrinkled head is massive, heavy and broad with proportionate body features. This is an ancient French mastiff-type breed whose puppies require early socialization and training but make sweet, calm and devoted family members despite their often imposing and intimidating size and appearance. Coat colors include various shades of fawn to mahogany with a darker red or black mask around and under the nose including the lips and eye rims. There are sometimes white markings on the chest and tips of the toes. Discover more about our Dogue De Bordeaux puppies for sale below.

Disposition
Calm temperament, extremely loyal, patient, devoted to family and gentle with children despite its size. 

A fearless breed, so they can be confrontational with strangers, but they make

a vigilant guardian if you don't mind some extravagant drooling and often snoring.

They socialize very well with other animals, preferably from an early age to avoid becoming aggressive toward other dogs. 

The Dogue de Bordeaux breed enjoys dog sports, exercise, obedience and agility.
Clubs, Registries & Associations
(Based on breed recognition. See store for details on a particular puppy.)
American Canine Association

Continental Kennel Club

National Kennel Club

American Kennel Club

Dog Registry of America, Inc.

America's Pet Registry, Inc.

American Canine Registry
Additional Information
Group: Mastiff
Average Weight: 99-140 lbs.
Personality Traits: Loyal, affectionate, courageous
Country of Origin: Ancient French mastiff
Coat: Short and soft with loose-fitting skin

Check out the Dogue De Bordeaux puppies for sale we currently have in our stores. If there are none here, please contact us and we'll be in touch.