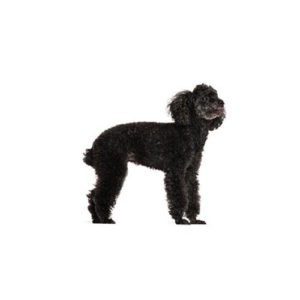 Description
There are three general sizes of Poodle: Standard Poodle, Miniature Poodle, and Toy Poodle. If the Poodle is groomed to show standards, its body has a square appearance. Its skull is somewhat rounded with a long, straight muzzle. The Poodle's ears hang close to its head and are long and flat. Its coat can be either curly or corded and comes in many colors including black, cream, brown, apricot, white, silver, gray, red, blue, and café-au-lait. Discover more about our Miniature Poodle puppies for sale below!

Disposition
Poodles are known for being very intelligent and responsive, making it one of the most trainable breeds.

Poodles are also sweet, cheerful, lively, and likes to be with people.

If socialized properly, Poodles make good watchdogs for their size. However, without the proper amount of exercise they may become stressed and timid.
Clubs, Registries & Associations
(Based on breed recognition. See store for details on a particular puppy.)
American Canine Association, Inc.

American Canine Registry

American Kennel Club

American Pet Registry, Inc.

Continental Kennel Club

Dog Registry of America, Inc.

North American Purebred Registry, Inc.

National Kennel Club

United Kennel Club
Additional Information
Group: Hunting
Average Weight: 15-17 lbs.
Personality Traits: Very intelligent, lively, cheerful
Country of Origin: Germany
Coat: Long
Check out the Miniature Poodle puppies for sale we currently have in our stores. If there are none here, please contact us and we'll be in touch.