Are you looking to Plan an Awesome Road Trip With Your Dog? Well, it's never easy to say goodbye to our pets when it's time to travel. If you can't bear to leave your four-legged friend behind on your next road trip, here are a handful of tips to help prepare you and your buddy for your upcoming adventure.
Contact Your Vet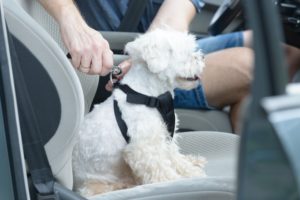 If your dog hasn't seen a veterinarian recently, make an appointment before you embark on your journey together. Your pet should be up-to-date on all vaccinations and make sure the information on its microchip ID is correct. If your dog does not have a microchip, now is a great time to get one. Consider using an app to keep all of your dog's health information in one place so you can easily access it in case of emergency and it never hurts to have a list of emergency contact numbers.
What to pack
Traveling with your dog doesn't have to be gear-heavy, but you want to have everything you need to keep your pet comfortable and avoid last-minute or unplanned trips to pet stores along the way. We recommend bringing:
Leash
Food (Keep your dog on its regular diet; especially if it's prescription.)
Water and food bowls
Water from home (A sudden change in tap water can make your pup sick.)
Treats
Chew toys
Bed, blanket
Pet shampoo, towel
Medications
Poop bags
Health documentation including rabies and other vaccination records
Pet-Friendly Places
While not every hotel will allow dogs, many have become pet-friendly so you should have little trouble finding a place that will welcome you and your dog. In addition, there really are a lot of restaurants and activities available for you to enjoy with your dog in tow. If you are camping, remember some campgrounds have restrictions on animals so contact them ahead of time to confirm the particulars.
If you're traveling by plane, make sure to check your airline's policy on pet travel. There may be specific medical records or other supplies you'll need to bring along and there are usually some specific breed and size requirements. If you're traveling abroad, be sure to talk to your vet or check to find out about vaccinations and/or special documents you'll need to have handy. Keep in mind some countries may require up to 8 months of advanced pre-travel procedures, so check early!
Route Planner
Coordinate having your pet along for the ride. It helps to plan your route and determine where you can (and can't) stop with your dog. Just like accommodations, more parks and recreation areas have become dog-friendly.
It's important to keep safety recommendations in mind when you travel with your dog. It's a good idea to administer a 30-day flea and tick treatment before your trip so pests won't be a problem. If your dog rides uncrated in the car, consider using a harness to keep it secure in case of an accident. Crating is an alternative and can come in handy when you stop for the night because a crate offers your dog a quiet place to relax at the end of the day. Never allow your dog to sit in your lap while you drive, and though most dogs like it, it's really not a good idea to let your dog stick its head out the window when the car is in motion. Some dogs succumb to motion sickness so make a point to feed your dog several hours before hitting the road. If your dog is prone to getting sick in the car, your vet can provide you with medication. For other dogs, being in the car provokes anxiety. Try practice runs with your dog before your trip to test for motion sickness or anxiety and then talk to your vet about options for treatment. You can also try placing a sheet over the sides of the crate for the duration of the trip, as sometimes it's the overwhelming sight of trees, power lines and cars speeding by that can lead your dog to feel sick.
Do plan to stop every three to four hours as your dog will need frequent bathroom breaks and quick walks. Be sure to also monitor the temperature in the car. You don't want your dog to feel uncomfortable if it's too hot or cold.
Dog Boarding and Dog Sitting
If, in your planning, you realize the logistics of taking your dog on vacation won't work, consider boarding him/her or hiring a pet sitter. Either way, you'll know your dog will be in good hands and taken care of while you're away.