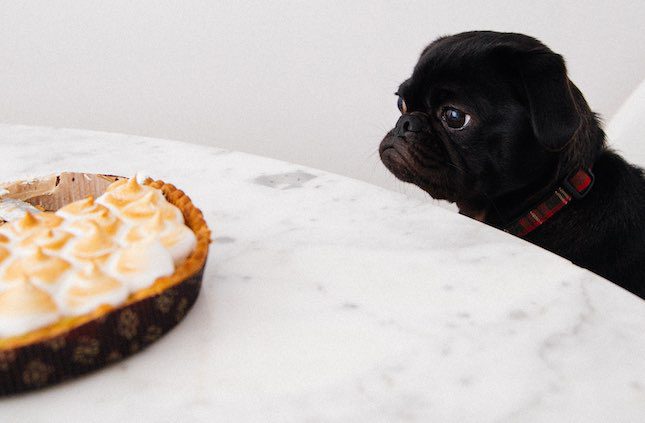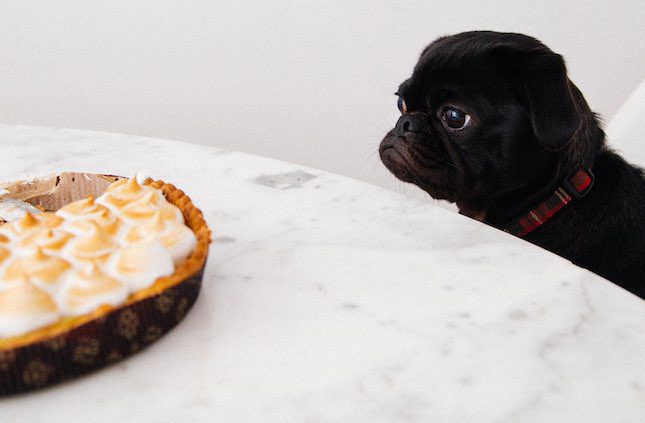 With the season for giving upon us, it's only natural that you'd want to share your Thanksgiving feast with your tail-wagging friend. Moderation may be off the table for you and your family during the holiday that's dedicated to overeating, but it shouldn't be for your dog. Offering your pet unhealthy fat trimmings can cause pancreatitis, and a turkey bone can potentially damage its digestive system. Fortunately, there are healthier food choices dog owners can share with their furry family members. From plain turkey breast to sweet potatoes, here are several Thanksgiving foods that are safe for dogs to enjoy during holiday festivities.
Thanksgiving Foods Safe for Dogs
Pumpkin — This nutritious plant food can help regulate your dog's digestive tract and ease stomach issues. Whether it's baked, canned or steamed, pumpkin is not only tasty, but it boosts immunity. It is a great source of dietary fiber, vitamin C and B6 as well as beta-carotene. It's also great for your pet's skin and coat. Try mashing boiled sweet potatoes for your pup before any butter or spices are added.
Cranberries — Both fresh and dried cranberries are safe to feed to canines in small quantities. Cranberries are a great source of antioxidants and are beneficial for your pet's urinary tract. They also add a fun burst of flavor and color to your dog's plate. Not all pooches enjoy its tart flavor, though, so try adding just a few as a topping or dessert.
Turkey Breast — Fully-cooked turkey is a good source of protein for your dog. Stick to white meat from the middle of the breast since it's least likely to have fatty, salty brine or skin, which can make your dog sick. Avoid giving your four-legged friend cooked poultry bones since they could easily break and get stuck in your dog's throat or bruise its stomach.
Sweet Potatoes — These sweet spuds are high in beta-carotene and fiber. Be sure to feed your dog plain sweet potatoes — without marshmallows, brown sugar, butter or other flavorings.
Carrots — Raw carrots are high in vitamin A and fiber but low in calories, which makes them a great snack for overweight pooches. They also are high in sugar, so if your pet is diabetic, you may want to substitute a different snack. Chewing raw carrots can even help remove plaque from your dog's teeth. If your canine has digestive issues, consider boiled or steamed carrots.
Green Beans — This low-calorie yet filling snack is often recommended by veterinarians for dogs that need to lose weight. Fresh and frozen green beans contain ample amounts of plant fiber, manganese and vitamins C and K. As with turkey and sweet potatoes, green beans should be served plain — without salt, butter or seasoning.
Apple Slices — Raw apple slices are a great snack to hold your pup over until the main course. They are full of vitamins A and C, and contain fiber. Be sure to cut around the core, as large amounts of apple seeds can be toxic.
Plain Peas — Green peas are a healthy treat for your dog, as they're an excellent source of essential dietary fiber, vitamins and minerals — such as iron, zinc, magnesium and potassium. These key vitamins and minerals are good for your pet's vision, skin, digestion and immune system. Avoid serving your canine creamed peas, since fattier food items can lead to an upset stomach.
Cooked Eggs — Before you start making deviled eggs as an appetizer for guests, serve them to your dog plain for a boost of protein. They're also a great source of easily digestible selenium and riboflavin. Be careful when feeding raw eggs to your canine, as they carry a risk of salmonella.
Mashed or Baked Potatoes — Cooked spuds are safe for dogs in moderation and when they're free of butter, sour cream, salt or pepper.
Frozen Yogurt — Does your pooch have a sweet tooth? Instead of serving it a slice of pumpkin pie, you can offer frozen yogurt as a sweet post-meal treat. High in protein and calcium, the creamy indulgence has the added benefit of probiotics, which can help strengthen the digestive system. Make sure to choose plain, low-fat or skim varieties without any added sugar, fruit or artificial sweeteners. If your pup is lactose intolerant, consider canned or cooked pumpkin as a dessert.
Thanksgiving Foods Dogs Can't Eat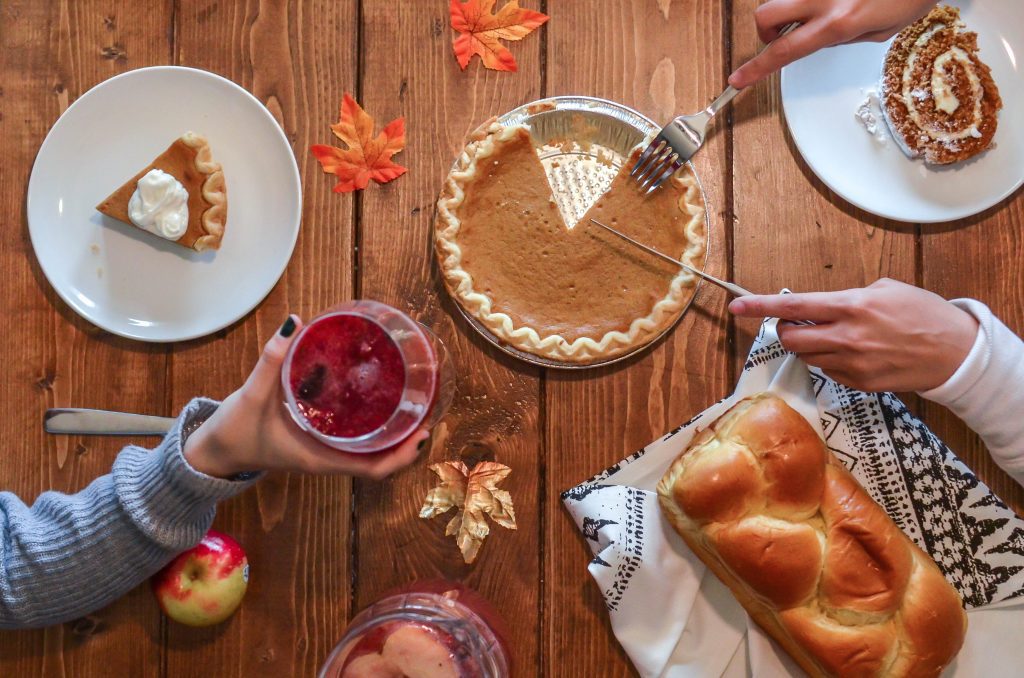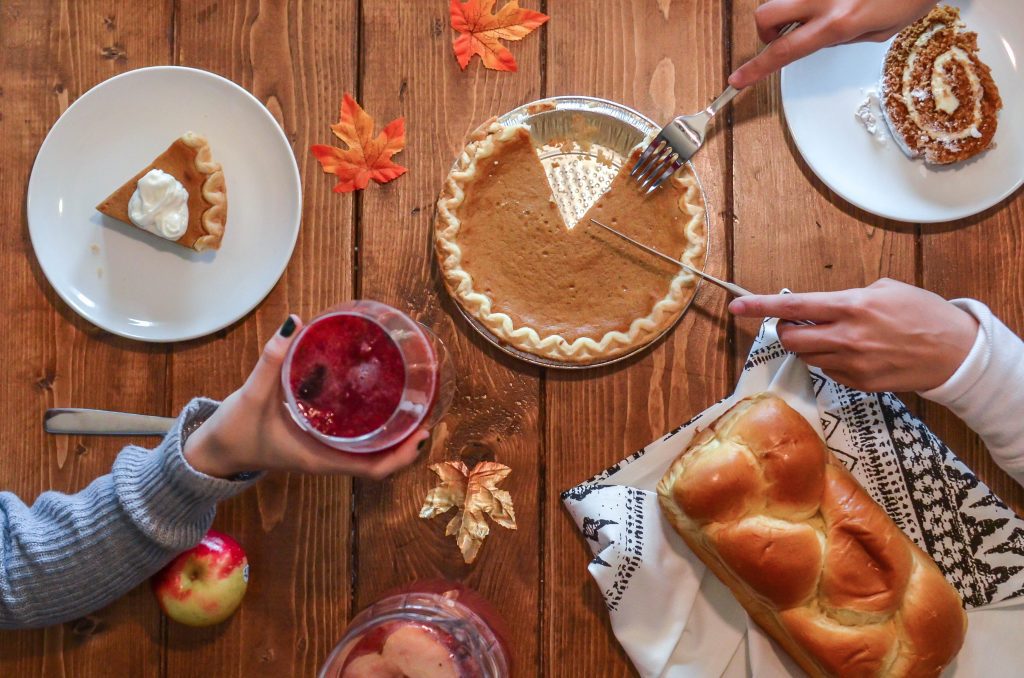 Several common human foods that are harmful to dogs usually find their way to the Thanksgiving dinner table. Avoid feeding your pet these dangerous and toxic items:
Corn on the cob – the cob can cause intestinal obstruction
Fat trimmings – too much fat can cause pancreatitis
Canned veggies – they tend to have a lot of sodium, which is unhealthy for your dog
Nuts, such as macadamia and walnuts
Sugary treats – can lead to upset stomachs
Onions and garlic – extremely toxic (disulfides and thiosulphates)
Mushrooms – certain types can be toxic, best to avoid any to be safe
Cooked bones – a choking hazard
Raisins – just as deadly as grapes
Chocolate – extremely toxic and should always be avoided
Nutmeg – can cause an upset stomach in small amounts
Butter and oils – can also cause pancreatitis over a long period of time
While it's safe to give your pet a taste of your Thanksgiving spread, these fall favorites shouldn't be its entire dinner. Any change to a dog's diet has the potential to cause discomfort, so be sure to inform guests and keep the table scraps and treats to a minimum.
Author bio: Stephanie N. Blahut is Director of Digital Marketing and Technology for Figo Pet Insurance. Figo is committed to helping pets and their families enjoy their lives together by fusing innovative technology — the first-of-its-kind Figo Pet Cloud — and the industry's best pet insurance plans.