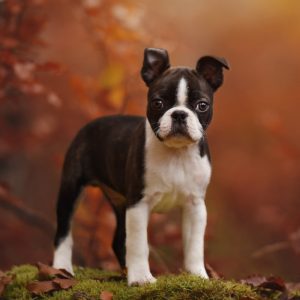 Description
The Boston Terrier, also known as the Boston Bull Terrier, is a compact and muscular dog. Their body is short with a square appearance along with a square-shaped head which is flat on top. The Boston Terrier's muzzle is wide and short with a bite that is either even or slightly undershot. Their wide-set eyes are large and round. Their ears are small and can be either cropped or left natural. Boston Terriers comes in a variety of colors including seal, brindle and white, black and white, and brown and white. Discover more about Boston Terrier puppies for sale below.


Disposition
The Boston Terrier is a gentle, alert, intelligent, and enthusiastic breed. Unless they get the proper amount of mental and physical exercise, the Boston Terrier can become rambunctious and stressed. The Boston Terrier is generally reliable with children and the elderly and likes to be part of the family and will generally get along well with non-canine pets but may become dominant and fight with other dogs if the owner does not show proper leadership.
Exercise
The Boston Terrier's need for exercise will vary by individual. For some, a walk will be enough while others will need more time to run and play. Simply letting a Boston out into the backyard won't count as exercise as they'll probably just sit at the door wait to be let back in. Left alone for long periods of time, they could become frustrated and develop negative behaviors. However, throw him a ball or a toy and he'll be more than happy to play with you. Participation in canine sports such as agility, obedience, and is also a great way to channel their energy.
Origin
Originating from Boston, Massachusetts, the Boston Terrier was bred down in size from the bull and terrier type of breeds. They originally weighed up to 44 pounds (called the Olde Boston Bulldogge). In fact, their weight classification was once divided as lightweight, middle, and heavyweight. The original Boston Terriers were a cross between the English Bulldog and the now extinct English White Terrier. The breed was first shown in Boston in 1870 and recognized by the AKC in 1893. In the early years the color and markings were not very important to the standard of the breed, but by the 1900s the Boston Terrier's distinctive markings and color were written into the standard.
Clubs, Registries & Associations
(Based on breed recognition. See store for details on a particular puppy.)
The American Canine Association Inc.
The American Canine Registry
American Kennel Club
American Pet Registry, Inc.
Continental Kennel Club
Dog Registry of America, Inc.
National Kennel Club
United Kennel Club
Additional Information
Group: Mastiff
Average Weight: 10-25 lbs.
Personality Traits: Gentle, intelligent, enthusiastic
Country of Origin: United States
Coat: Short

Check out the Boston Terrier puppies for sale we currently have in our stores. If there are none here, please contact us and we'll be in touch.