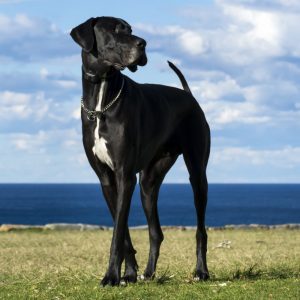 Description
The Great Dane is a great dog breed, also known as a gentle giant or the "Apollo of Dogs." Obviously it's a very large breed and noble too. The Great Dane requires consistent and committed leadership because of its size and needs to be taught good manners while still a puppy so he or she learns how to safely interact with people. For example, a Great Dane can easily knock over an unsuspecting person with one mere jump. That said, the Great Dane is actually a sweet, affectionate and truly gentle breed. It has an athletic, muscular body with a giant head, a long, graceful neck, and a long and narrow body. Discover more about our Great Dane puppies for sale below!

Disposition
They are gentle and docile yet make great watchdogs because they are so loyal to their family.

Though they look imposing, Great Danes are one of the best-natured dogs around and they do very well with small children and are known for how affectionate they are toward kids. They also do well with other pets.

They are high energy and must be exercised.
Clubs, Registries & Associations
(Based on breed recognition. See store for details on this particular puppy.)
American Canine Association

Continental Kennel Club

Universal Kennel Club International

American Kennel Club

United All Breed Registry

America's Pet Registry, Inc.

United Kennel Club
Additional Information
Group: Working Dog
Average Weight: 100-200 lbs.
Personality Traits: Sweet, playful, gentle
Country of Origin: Germany
Coat: Short

Check out the Great Dane puppies for sale we currently have in our stores. If there are none here, please contact us and we'll be in touch.