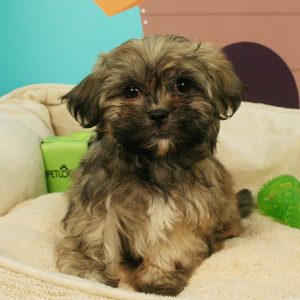 Description
The Havashi, also known as a Havashu or Hava-Tzu, is a cross between the Havanese and Shih-Tzu breeds. It has longer back legs than front legs which make its back end higher and the tail can curl. Although a small breed, the Havashi is sturdy. Their eyes are black and have black rims. Its ears tend to be floppy. Its coat can be wavy, curly, long, or fine and common colors include black, brown, gray, silver, golden, chocolate, and white. Discover more about our Havashi puppies for sale below!


Temperament
The Havashi is a cheerful, playful, social, and loving breed. It is also alert, responsive, and smart. Although they can be stubborn and hyper sometimes, Havashi can also be sweet and become very attached to their family. The Havashi is a good family dog, and despite being small, is not overly fragile and therefore can get along fine with children. This breed also has good watchdog potential as it will bark and alert its owners when an intruder is present.
Care and Grooming
The Havashi has moderate grooming needs and will need some regular care. While they do not usually shed much, they will need to be taken to a professional groomer on a regular basis to have some grooming done. Although they don't typically shed much, their long hair will need brushing daily to keep it free of tangles.
Training
The Havashi is a fairly active breed and will need daily outdoor time such as walks and play time. Being a small dog, the Havashi can get some of its activity from indoor play and can be suitable for apartment living. This breed is also moderately easy to train as it is intelligent, eager to please, and responsive.
Clubs, Registries & Associations
(Based on breed recognition. See store for details on a particular puppy.)
American Canine Hybrid Club

Designer Breed Registry

Designer Dogs Kennel Club

Dog Registry of America, Inc.

International Designer Canine Registry
Additional Information
Group: Companion
Average Weight: 8-15 lbs.
Personality Traits: Social, playful, active
Country of Origin: United States
Coat: Long

Check out the Havashi puppies for sale we currently have in our stores. If there are none here, please contact us and we'll be in touch.