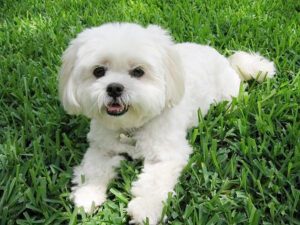 Description
The Lhatese, also referred to as a Lhasatese or Lamalese, is a cross between the Lhasa Apso and Maltese breeds. Its coat is smooth, long, and soft and can come in a variety of colors such as white, black, grey, red, brown, or a combination. Discover more about our Lhatese puppies for sale below.


Temperament
The Lhatese can be friendly, smart, loving, protective, playful, and energetic. If properly socialized, they can be wonderful family pets, too. Even though it is a small breed, due to its protective nature the Lhatese can make a good watchdog since it will keep an eye out for suspicious people near your home and bark to alert you.
Even though the Lhatese is an active dog, it is comfortable with spending time indoors waiting patiently for their owners, but like all dogs, they do best in families that have plenty of time to devote to their care.
Care and Grooming
The Lhatese's coat is smooth, long, and soft, but does not shed a lot. However, due to the length of the coat it can become matted, so it should be brushed every day. It is also good to clean the area under the eyes daily to remove tear stains and prevent irritation.
Exercise
Because the Lhatese is an active breed, you will need to give it ample opportunity to let out its energy. A variety of toys will help it to remain mentally stimulated while spending time indoors and allowing it to run around and play outside if you have a safe and enclosed backyard will help with exercise.
Training
If the Lhatese acquired more of its personality from the Maltese, it will be moderately easy to work with when it comes to training. But if it acquired more of the personality from the Lhasa Apso, it could be difficult to train due to stubbornness. So, as is the case with any dog, it is best to begin training and socializing it at a young age.
Clubs, Registries & Associations
(Based on breed recognition. See store for details on a particular puppy.)
American Canine Hybrid Club

Designer Breed Registry

Designer Dogs Kennel Club

Dog Registry of America, Inc.

International Designer Canine Registry
Additional Information
Group: Companion
Average Weight: 6-15 lbs.
Personality Traits: Loving, protective, active
Country of Origin: United States
Coat: Long

Check out the Lhatese puppies for sale we currently have in our stores. If there are none here, please contact us and we'll be in touch.