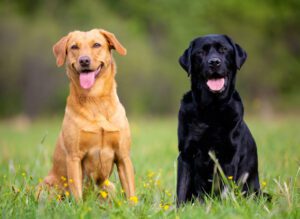 Description
Labrador Retriever puppies have long been regarded as the most suitable pet throughout the world and is the most popular breed in the U.S. This breed is great for hunting and often works with gun sportsmen, rightfully earning the title "gun dog". It is a remarkable working companion often used in physical assistance and personal protection. Highly intelligent, good-natured, very willing and eager to please, they are among the top choices for service dog work. Its loyal and friendly temperament makes it an outstanding pet; reliable and superb with children and other dogs.
The Lab features a strong jaw set in a broad head with strong legs and shoulders which add to its fast pace. They also have webbed feet to aid in swimming. The coat is straight, dense and short with the outer coat being a bit coarse and the undercoat thick and soft making it almost completely waterproof. Their coat also comes in multiple colors including black, chocolate, silver, or yellow. Discover more about our Labrador Retriever puppies for sale below!


Disposition
The Labrador Retriever is loyal, playful, alert, curious, patient, and good-natured. Labrador Retrievers have a distinct elegance, carrying themselves in an upright, proud demeanor but with a friendly expression making them so endearing. One of the most popular breeds in the U.S., the Labrador Retriever is exceptional with kids, other pets, and people which makes them a great family dog. They love to play, especially in water, never wanting to pass up the opportunity for a good swim.
Exercise
Labrador Retrievers require a lot of exercise and playtime as they have a high degree of stamina, energy, and strength. Labs love to exercise so be sure that you like to exercise too. Adult Labs are very strong so train them while they are a puppy to heel on the leash, and not to bolt out of doorways and gateways before their owners. They can also become destructive without enough mental and physical exercise or if they are left too much to their own devices.
Training
The Lab is highly intelligent and willing to learn, always loving a job to perform so your job as a trainer will be easy. However, you need to be a calm, knowledgeable owner giving consistent and committed leadership to your Labrador Retriever using motivational training methods. They crave human leadership and need to feel as though they are part of the family. Your Lab may be reticent with strangers unless socialized, so train and socialize your Labrador while they are still puppies in order to avoid negative behaviors as they get older.
Labrador Retrievers love to eat and many owners need to keep the food out of reach and even under lock and key because this breed will find a way to get to the food with or without the owner; sometimes eating until they get sick.
Grooming
The Lab is an average shedder with a smooth and thick, water-repellent double coat. Comb/brush them regularly and give occasional baths as needed to keep them clean. As with all dogs, trim their nails and brush their teeth regularly.
Origin
The Labrador Retriever is from Newfoundland and was bred to work with fishermen. They were trained to work in the water to pull in the fishing nets and to retrieve fish that came loose from the lines. In the 19th century, this breed was brought to England where they were crossed with various breeds of Spaniels, Setters, and other Retrievers to advance their hunting skills. Today this breed shines in hunting, tracking, retrieving, search and rescue, military and police K-9 units, narcotics detection, assistance and guide dogs, and field trial competition.
Clubs, Registries, & Associations
(Based on breed recognition. See store for details on a particular puppy.)
American Canine Association
Continental Kennel Club
Universal Kennel Club International
American Kennel Club
United All Breed Registry
America's Pet Registry, Inc.
United Kennel Club
Additional Information
Breed Group: Sporting
Average Weight: 50-80 lbs.
Average Lifespan: 10-12 years

Check out the Labrador Retriever puppies for sale we currently have in our stores. If there are none here, please contact us and we'll be in touch.