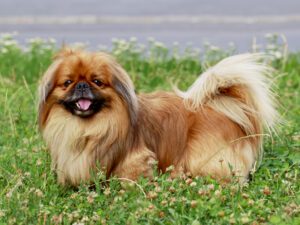 Description
The Pekingese is a little courageous breed of dog and despite its small stature and delicate appearance, it should not simply be regarded as a lapdog. The Pekingese is a fearless, alert and devoted guard dog packed into a small toy body. It's well-known as a small Chinese lion because it will dare to confront any threat to its family or belongings, which is why it makes such a perfect watchdog. Discover more about our Pekingese puppies for sale below!


The breed is passionately caring toward its owner(s) and toward children; however, it has a very low tolerance for child's play. Your Pekingese very well might snap at young kids who either play rough with it, pull its hair or tail and/or try to swipe its toys, food or other belongings. That said, this dog makes a great, devoted companion because of the very strong, loving bond it feels with its caretaker and owner.
Disposition
The Pekingese is independent and a bit possessive of its owner so it can be stubborn and reserved with strangers. It also has a special love and affection for cats but can hold a slight aggression toward dogs if not socialized from a young age. When socialized from a young age, the Pekingese is loving toward all house pets. The breed prefers the indoors – unlike sporting dogs – which makes it a top choice for apartment dwellers, though consistent walks or backyard play will help it burn off natural energy.
Clubs, Registries & Associations
(Based on breed recognition. See store for details on this particular puppy.)
American Canine Association

Continental Kennel Club

Universal Kennel Club International

American Kennel Club

United All Breed Registry

America's Pet Registry, Inc.

United Kennel Club
Additional Information
Group: Toy
Average Weight: 6-13 lbs.
Personality Traits: Courageous, alert, devoted
Country of Origin: China
Coat: Long, flowing double coat, Outer: Long, course, Under: soft, thick

Check out the Pekingese puppies for sale we currently have in our stores. If there are none here, please contact us and we'll be in touch.