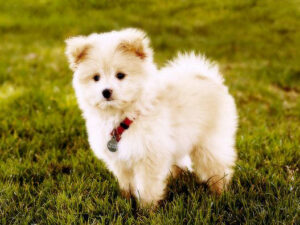 Description
The Pomapoo, also known as a Pooranian, is a cross between a Toy Poodle and Pomeranian and is known for its cute, teddy bear look. They inherit facial features and skull-shape from both their parents. They have a short, straight muzzle and have round eyes. Their ears are triangular in shape. The Pomapoo's coat can come in a wide variety of colors. Discover more about our Pomapoo puppies for sale below!


Disposition of Pomapoo Puppies
The Pomapoo is a social, intelligent, and affectionate breed. These traits make them good with people of all ages but should still be watched when playing with young children due to their small size. Even though the Pomapoo needs a daily walk to work off their excess energy like most dogs, much of their exercise requirement can be met with active playtime. Due to their small size and gentle nature, the Pomapoo is adaptable to their owner's lifestyle and does not have high needs for exercise.
Clubs, Registries & Associations
(Based on breed recognition. See store for details on a particular puppy.)
American Canine Hybrid Club

Designer Breed Registry

Designer Dogs Kennel Club

Dog Registry of America, Inc.

International Designer Canine Registry
Additional Information
Group: Companion
Average Weight: 5-15 lbs.
Personality Traits: Intelligent, affectionate, gentle
Country of Origin: United States
Coat: Long

Check out the Pomapoo puppies for sale we currently have in our stores. If there are none here, please contact us and we'll be in touch. Our patient staff looks forward to helping you and your family find the right breed