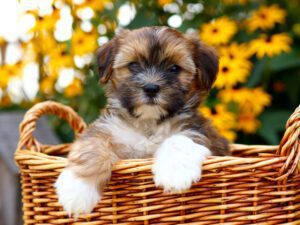 Description
Also called a Yorkie Tzu or Shorkie Tzu, the Shorkie is a cross between a Yorkshire Terrier and a Shih Tzu. It is a small breed with a rounded head and triangular ears. Common Shorkie coat colors include tan, black, brown, and golden. Discover more about our Shorkie puppies for sale below!


Disposition
Loving, playful, and loyal. Socialization is a very important factor in the temperament of the Shorkie. Most Shorkies will get along well with children and others in the home if they have been properly socialized. However, it is a good idea to supervise children when playing with the Shorkie due to their small size. Being a mix between a Shih Tzu and a Yorkshire Terrier, the Shorkie is a dedicated and loyal breed and should not be left alone for long periods of time because they crave human companionship. Although it won't ever be a guard dog, the Shorkie can make a good watchdog since it will bark and alert its owners when an intruder is present.
Clubs, Registries & Associations
(Based on breed recognition. See store for details on a particular puppy.)
American Canine Hybrid Club

Designer Breed Registry

Designer Dogs Kennel Club

Dog Registry of America, Inc.

International Designer Canine Registry
Additional Information
Group: Companion
Average Weight: 7-15 lbs.
Personality Traits: Loving, playful, loyal
Country of Origin: United States
Coat: Long

Check out the Shorkie puppies for sale we currently have in our stores. If there are none here, please contact us and we'll be in touch.