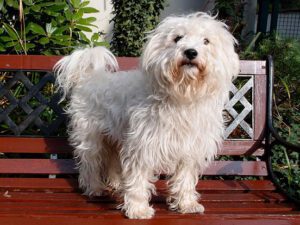 Description
The Westiepoo is a cross between a West Highland White Terrier and a Toy Poodle. They have a rounded face and a compact, solid body. Their coat is medium to long in size and covered by ruffled fur that gives them a typical Terrier look. The Westiepoo comes in white with shades of black, tan, and brown. Discover more about our Westiepoo puppies for sale below!


Disposition
The Westiepoo loves to stay around people and is caring towards their owner, making it a great companion and watch dog. It also has an affectionate and loyal nature, which make them good with other pets and kids but are shy with strangers and will at times bark at them. Westiepoos are also an agile and curious dog and will therefore often try to investigate their surroundings. Being an intelligent breed, they are able to understand the boredom of separation which can cause yapping when left alone.
Clubs, Registries & Associations
(Based on breed recognition. See store for details on a particular puppy.)
American Canine Hybrid Club

Designer Breed Registry

Designer Dogs Kennel Club
Dog Registry of America, Inc.

International Designer Canine Registry
Additional Information
Group: Terrier
Average Weight: 30-40 lbs.
Personality Traits: Intelligent, loyal, playful
Country of Origin: United States
Coat: Long

Check out the Westiepoo puppies for sale we currently have in our stores. If there are none here, please contact us and we'll be in touch with you shortly. Our staff is extremely knowledgeable and can answer any questions you might have about our puppies.