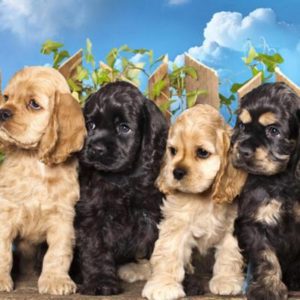 Description
The Cocker Spaniel is the smallest of the Sporting Group, is intelligent with a sturdy, compact body and a cleanly chiseled and refined head. The Cocker Spaniel is capable of considerable speed and great endurance. Its medium-length, silky coat comes in black, liver, red, gold, tan and tricolor. They are sweet, charming, and cheerful. The Cocker Spaniel can become shy and/or aggressive if not socialized well and given its daily walk and mental stimulation. The breed comes in two varieties: the English Cocker Spaniel and American Cocker Spaniel. Originally bred for hunting, today's Cocker Spaniel is really more of a loving, caring family companion. Discover more about our Cocker Spaniel puppies for sale below!


Disposition
The Cocker Spaniel is highly sensitive and keen to obey instructions. They have a wonderfully cheerful demeanor and love staying indoors, though – owing to their energy level – should be given daily walks. The Cocker Spaniel is a very loving and pleasing dog with a "soft" personality so harsh training methods will make it fearful:  use gentle, consistent training to get the best results.

This breed is known as the "merry" Cocker, because it is playful, cheerful, amiable, sweet, sensitive, willing to please, and responsive to his family's wishes. They are also inquisitive and will appreciate an outing.
Exercise
The Cocker Spaniel is fairly active indoors and will do okay in an apartment if they get adequate exercise. Therefore, a small yard is sufficient. Cocker Spaniels have plenty of stamina and need regular exercise. As a result, take them on daily, long walks. When walking, avoid brushy thickets that can tangle the coat.
Origin
The Cocker Spaniel comes from the English Cocker Spaniels during the 14th century, and were eventually brought to the United States. The Cocker Spaniel was bred down in size and given the name American Cocker Spaniel. The American Cocker Spaniel is more popular than the original English Cocker Spaniel, which are slightly different in appearance with longer muzzles and larger bodies. The Cocker Spaniel is a hunting dog able to work in difficult terrain on both wet and dry land. They also listen well to commands. The name "Cocker" comes from Woodcock, a game bird Spaniels were known for flushing out of hiding. The American Cocker Spaniel's talents include hunting, tracking, retrieving, watchdog, agility and competitive obedience.
Clubs, Registries & Associations
(Based on breed recognition. See store for details on this particular puppy.)
American Canine Association

Continental Kennel Club

Universal Kennel Club International

American Kennel Club

United All Breed Registry

America's Pet Registry, Inc.

United Kennel Club
Additional Information
Group: Sporting
Average Weight: 24-29 lbs.
Personality Traits: Smart, sensitive, active
Country of Origin: England
Coat: Medium length, Silky/wavy

Check out the Cocker Spaniel puppies for sale we currently have in our stores. If there are none here, please contact us and we'll be in touch.