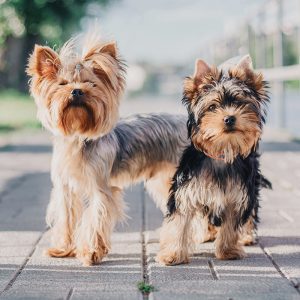 Description
The Yorkshire Terrier is a sprightly, small breed and one of the most popular in the U.S. Its head is flat on top and their muzzle is medium-sized with teeth that meet in a scissors or level bite. Their ears are V-shaped. The Yorkshire Terrier's coat is long, fine, and silky and falls straight down to their side. As adults, their coat is a steel blue and tan color, but as puppies, it is brown, black, and tan. They are considered to be a low-shedding breed. Discover more about our Yorkshire Terrier puppies for sale below!
Yorkshire Terrier puppies may be small and dainty, but don't let that fool you – these little dogs are tenacious, feisty, brave, and sometimes bossy. The Yorkie exhibits all the traits of a true terrier. Weighing no more than seven pounds, they pack a lot a lot of attitude in those little bodies.

Disposition
Yorkshire Terriers are eager for adventure and seem oblivious of their small size. Although small, they are energetic, loyal, brave, and clever.

Yorkshire Terriers are affectionate with their master but can become yappy, apprehensive of strangers, and aggressive to other dogs and small animals without strong leadership from its owner.

Due to their small size, Yorkshire Terriers are commonly only recommended for families with older, more considerate children.
Clubs, Registries & Associations
(Based on breed recognition. See store for details on a particular puppy.)
Continental Kennel Club

American Kennel Club

United Kennel Club

National Kennel Club

American Pet Registry, Inc.

American Canine Registry

Dog Registry of America, Inc.

North American Purebred Registry, Inc.

American Canine Association, Inc.
Additional Information
| | | | | |
| --- | --- | --- | --- | --- |
| Breed Group | Average Weight | Personality Traits | Country of Origin | Coat |
| Terrier | 7 lbs. | Energetic, brave, loyal | United Kingdom | Long |

Check out Yorkshire Terrier puppies for sale we currently have in our stores. If there are none here, please contact us and we'll be in touch.